The American University of Armenia (AUA) Gerald and Patricia Turpanjian School of Public Health (AUA SPH) has renewed its Memorandum of Understanding (MOU) with the Johns Hopkins University Bloomberg School of Public Health (JHSPH) (Baltimore, Maryland, USA) for another five years. The MOU facilitates the collaboration between JHSPH and AUA SPH to sustain, develop, and advance the Master of Public Health (MPH) program and AUA's Center for Health Services Research and Development (CHSR), to facilitate collaborative work in research, education, and training, and to facilitate JHSPH faculty to teach at AUA's MPH Program.
Planning for the AUA SPH (previously College of Health Sciences) started in early 1994, leading to its establishment in 1995. The AUA leadership of the time considered establishing a program in the medical field and, following a review of existing needs, they decided to start a program for modern public health that was designed to meet a critical need. Dr. Haroutune K. Armenian from JHSPH, who was working at the time in the earthquake zone in Armenia, was asked to lead the planning effort. The planning team included Drs. Myron Allukian, Avedis Donabedian, Dorothy Donabedian, Kim Hekimian, Mihran Nazaretyan, Krikor Soghikian, Ara Tekian, and Michael Thompson.
Dr. Armenian was the Director of Johns Hopkins' MPH program at the time. As planning for the program progressed via a series of national curricular planning workshops, a formal affiliation with JHSPH was established.
The agreement provided a broad framework for drawing on Hopkins' faculty expertise in planning and delivering the curriculum. The initial five-year formal agreement was signed by AUA President Dr. Mihran Agbabian and Dean of the JHSPH Dr. Alfred Sommer in 1994, and subsequently renewed every five years. JHSPH Dean Ellen J. MacKenzie and AUA President Armen Der Kiureghian extended the affiliation through 2024
The first 20 years of collaboration have resulted in several noteworthy achievements: 1) JHSPH faculty have taught and advised AUA MPH students; 2) JHSPH faculty have contributed to the annual AUA MPH curriculum review; 3) JHSPH and AUA SPH jointly have conducted numerous funded research projects; 4) JHSPH and AUA SPH faculty have produced many joint publications in peer-reviewed internationally ranked journals; 5) AUA CHSR researchers have received scholarships to attend certificate courses, and AUA graduates have earned their doctoral degrees at JHSPH. According to the U.S. News & World Report, JHSPH has consistently been ranked #1 among schools of public health.
This enduring partnership has contributed to the success and quality of the AUA MPH Program. As a recent (2013) external review of the AUA MPH Program noted, "…The content and quality are comparable to the top tier of MPH degrees at universities in the United States."
The AUA Gerald and Patricia Turpanjian School of Public Health works actively to improve the health of the populace and health services in Armenia and the region through interdisciplinary education and development of public health professionals and others to be leaders in public health, health services research and evaluation, and health care delivery and management.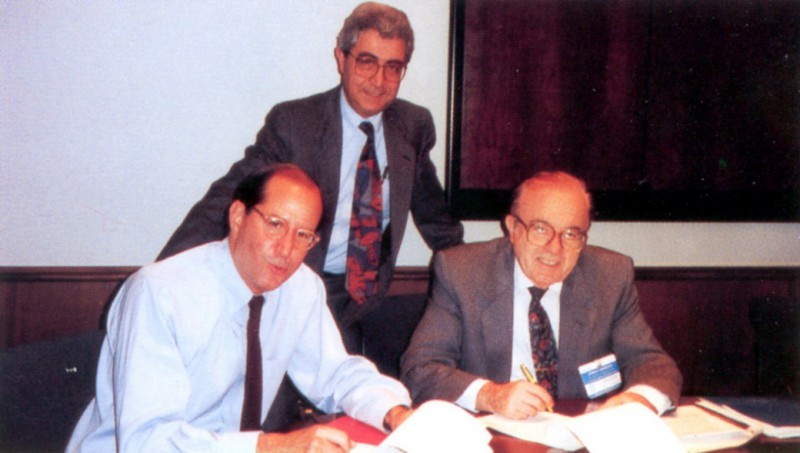 From left to right: Dean of the Johns Hopkins School of Public Health Dr. Alfred Sommer, Director of the JHSPH MPH Program Dr. Haroutune Armenian, and AUA President Dr. Mihran Agbabian sign the MOU with Johns Hopkins (Spring 1994).
Historic MPH Leadership (from left to right): AUA President Emeritus and AUA SPH Founding Dean Dr. Haroutune Armenian, Drs. Kim Hekimian, Michael Thompson, Ed Bunker, Varduhi Petrosyan, Dean Dr. Robert Bagramian and President Dr. Bruce M. Boghosian visit Boston for the SPH Annual Faculty Workshop (Fall 2013).